Chongqing: relying on the "water iron and air" hub, build the international large-scale structure of warehouse logistics?
A local warehousing logistics is scientific and reasonable planning and layout, consider two main functions: the first is warehousing logistics organization management functions, followed by relying on the economic development function of warehouse logistics services.
Due to the concept of international geopolitics and regional economic and trade cooperation, warehouse logistics is an indispensable productive force in the national strategy of "One Belt And One Road". To this end, the "One Belt And One Road" national strategy lists warehouse and logistics policies as a "13th five-year plan".
From now on, China's leading Internet storage integrated service platform league YunCang, joint domestic numerous well-known media, launched "area", content couplet YunCang see national logistics node city layout large series.
As China's largest and most active online storage service platform, content couplet YunCang CangYuan online more than 9100 square meters, more than 100 square meters, monthly warehouse requirements have investment promotion and popularization, the digital warehouse warehouse at the same time, common warehouse distribution, software and hardware technology, warehouse equipment mall, supply chain finance six core services. In series report, al YunCang will with professional, unique and authoritative perspective, analysis, interpretation of these cities for warehousing logistics industry of the country's guidance and promote the overall development of…
Chongqing: relying on the "water iron and air" hub, the international large-scale structure of warehouse logistics is constructed
From many international and domestic logistics giant rob in airport industrial park, to the foreign trade container lifting of beach harbor, a boom in each big park confirm the vitality of the warehousing logistics industry of chongqing.
The port, the bonded port, the water iron and air transport hub, undoubtedly established the three-dimensional development layout of chongqing warehouse logistics industry.
As the "area", lian YunCang see national logistics node city layout of large cover series first, chongqing in chongqing new projects such as the international railway channel, high quality industrial profit growth, make people sit up and take notice of the financial, service trade growth, has become China's new open frontier highlands.
Modern logistics park in the west: the beginning of chongqing new European international railway transportation
This is the central railway station of chongqing west modern logistics park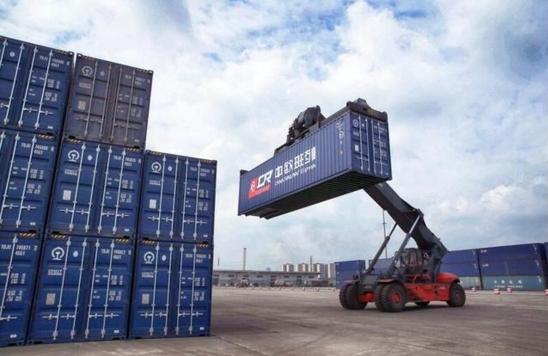 Central railway station in the western modern logistics park
The modern logistics park in western chongqing, the western suburb of the main city, is known as the "silicon valley of the west". There are many well-known institutions such as HP, IBM, Microsoft, the Chinese academy of sciences, and China microsemiconductor.
Economic belt in the silk road starting point of the "new Europe" chongqing international railway channel "zero" glyph landmarks around, a row of enterprises or institutions from different countries of the flagpole, represents the occupiers of logistics park.
Mr. Zhang, who is in his 40s, has been here to witness the development of warehousing and logistics. He told united YunCang channel manager yao, the government is located here, because there are two railway convergence: unity village railway container terminal and booming field oversize railway marshalling yards.
According to the data, relying on these two railway resources, chongqing municipal government has set up the inland bonded logistics park, the modern logistics park in western chongqing. From the park function plate figure, west new town plan and chongqing urban integrated traffic plan, this is a collection of utility, which integrates warehousing logistics park.
As the largest railway logistics park in chongqing, the railway port of the park can be used for customs clearance. Here, the well-known logistics developers and tripartite logistics are: middle and outer transportation, central China logistics, cosco logistics, etc.
The highest standard logistics base in the west: the international commercial airport logistics park
Photo is of chongqing international trade and commercial airport logistics park
Chongqing international trade and commercial airport logistics park
In August 2016, the total investment of $61.8 million was in the north logistics park of chongqing, which is about 9km straight from jiangbei airport. And long before this, had the ember (chongqing) airport logistics center project, Singapore feng tree (chongqing) bonded port logistics platform project electricity industrial park, jia people of mainland and overseas warehousing logistics giants, to break into the layout of chongqing.
Covers an area of about 2227 mu, the bonded port area of chongqing airport international trade logistics park, located in the airport east road and airport road junction, adjacent to jiangbei international airport, railway station and airport function tongda chongqing adjacent high-speed, high-speed ring, etc. 11 expressways, has superior geographical advantage and good policy.
Among them, the only people built in storage area of more than 13 square meters of modern commercial logistics park project, has successfully attracted grundfos, YunDa, express, immortal huitong, bundle of logistics, such as high-quality logistics at home and abroad customers in operation. When completed, the project will provide a total area of 190,000 square meters of high-quality storage space for the market, with an estimated 2,000 jobs. At the same time China's smart backbone (chongqing liangjiang new area) project investment by alibaba's rookie group, planning and construction of about 170000 square meters of modern standard storage facilities.
Different from general logistics park, airport international trade logistics park take full advantage of the superior traffic advantages and bonded port area, bonded port area industrial structure their own advantages, to build modern logistics, trade, electronic commerce, headquarter economy, clearing center and the supporting facilities for the integration of the bonded trade logistics park.
Therefore, the logistics park will be built into a comprehensive logistics park, which will form the "logistics + warehouse + N".
The water iron and iron common transportation is seamless: an inch tan port + orchard harbor + fish complex industrial park
The picture is of the bank of chongqing
Located in the jiangbei, more than 10 km away from chongqing jiangbei airport inch beach harbor, is the most advanced Yangtze river shelter-forest, throughput, the biggest foreign trade container port, which can be through the golden water and 16 large and medium-sized cities are closely linked.
As chongqing is the most important port, inch beach bonded port, which is based on inland and export Jiang Yun, economy is developed, the warehouse price here, is the highest in chongqing area. Here, we are in the well-known logistics real estate agent and third party logistics: pross, kerry chase, merchants bureau logistics, people's livelihood logistics, easy generation storage and so on.
Total investment of about 10 billion yuan of orchard port, is the upper Yangtze river region container transit center, service center of bulk cargo transshipment, motor transport transit center, inland waterway in the Yangtze river basin is also the largest water port, iron, public transport, the railway are introduced into the Hong Kong special railway line on the fish's mouth, can form of water transportation in seamless connection.
And fish after industrial park, adjacent to the orchard port of the planning area of 67 square kilometers, consists of jiangbei town, fish mouth is the most important in the western region of water iron base for public transport and port logistics distribution center. At the right time, the right place to go first. To this end, large warehouse and logistics enterprises such as pross, fengshu, ambo, jiamin, daxin logistics, and meilian logistics have taken to the orchard harbor and the fish complex industrial park.
With iron, water, air, and multiple location advantages, such as a trade diversification pilot chongqing bonded port area such as policy, to chongqing, warehousing logistics industry brought huge space for development.